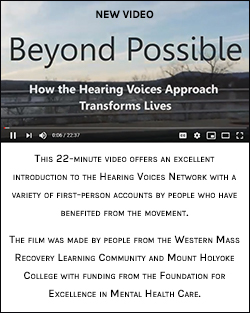 We wanted to let you know about a new video that's available on YouTube, Beyond Possible – How the Hearing Voices Approach Transforms Lives!

This 22-minute video offers an excellent introduction to the Hearing Voices Network with a variety of first-person accounts by people who have benefited from the movement.

The video was made by people from the Western Mass Recovery Learning Community and Mount Holyoke College with funding from the Foundation for Excellence in Mental Health Care.